Now a days Technology is advancing & improving more for the betterment of daily needs. Small Pen drives are also important to transfer data from one computer to another. People prefer to use Pen drives instead of CD Rom's. Pen Drives are flexible & easy to use by all people. Through Pen Drive you can transfer small as well as huge file size (MB or GB). You can also transfer Mp 3 & Video files very easily, with the help of copy-paste. Pen Drives can also be use for booting purposes.
There are so many things that you can do with a Pen Drive.
How to increase RAM in PC using Pen Drive.
You can also increase your PC or Laptop RAM size by using Pen Drive. Simply insert your Pen Drive into USB, That's it. So here is the Trick to increase your RAM for your Computer.
Insert your Pen Drive into USB.
Then Proceed to or double click to My Computer.
Right click to your Flash Drive & click Format.
A prompt appears to erase all data in the Pen Drive, Just click OK.
Again, Right click to your Flash Drive & click Properties.
On the Properties, click on tab ReadyBoost.
Click on Use This Device & configure your slide to the maximum space used.
Click on Apply button, as it will take some time to configure ReadyBoost.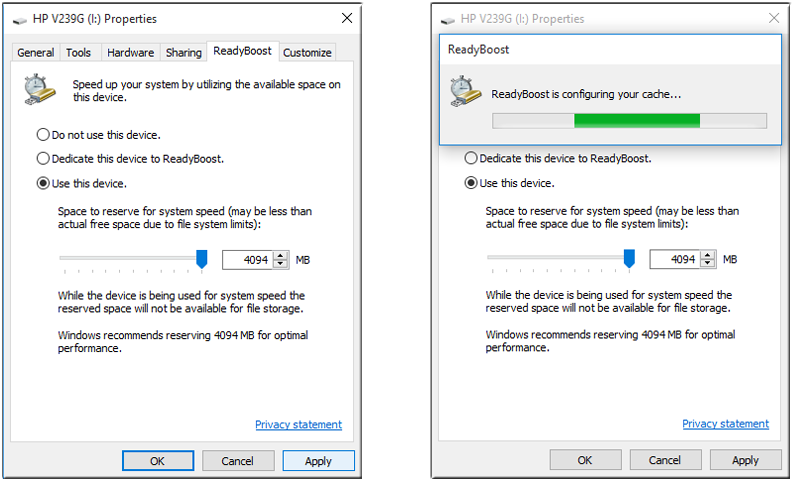 Click Apply, then press OK button.
Its done, now use your Pen Drive as RAM.

Note:-
In Windows 7Â Click on Advanced system settings on the sidebar of the properties.
Your Pen Drive must have a minimum of 1 GB of space.
If you don't need to use your Pen drive as RAM or you want to reverse this process, Then follow this step.
Insert your Pen Drive.
Click Properties.
Proceed to ReadyBoost.
Then, click "Do Not Use This Device".
Press Ok.
Your Pen Drive will become normally working again.